February is upon us, and while we rejoice at the ending the January blues. It also means Valentine's Day and time to set your sights on and planning the perfect gift for that special lady in your life. Romance means something different to everyone. Not every lady wants the big extravagant gifts, but perhaps a small, thoughtful token to show you remember and something as a reminder of a special time between both.
Here at Two's Company we recognise and understand all the different types of relationships out there – from new and exciting young love to the long-term relationships. No two relationships are the same. So to take the stress and panic buying away from you, we have some inspiration you may need to get the perfect present for her this Valentine's Day.
Something To Help Her Relax:
Whether it's a new face mask, some bubbles and a candle for a relaxing bath. Getting her something to help her de-stress after a busy week will always go down well. An optional glass of wine to top it off is also a firm favourite here in the Two's Company office. 
Something Soft To Wear In Bed:
Given the day that's in it, a pretty night time set is always an option. A nice silk slip in a pretty colour is super sultry but still practical enough for a good night's sleep.
Something That Reminds Her of Your Love:
Home is where the heart is, so why not hang one up above your bed or in your living room? If she's a coffee or tea fan, why not get her a mug with a big heart on it, a simple present that has constant reminders of your love for her each time she uses or sees it.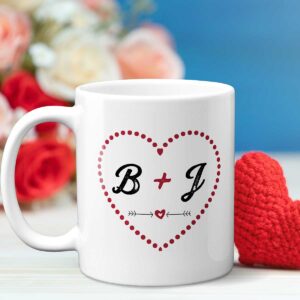 Something Pretty to Wear While Getting Ready
For any lady, the last thing done when getting ready for a night out is putting on their outfit. She a robe to wear after she steps out of the shower or while she's doing her makeup is a great gift.
Something That Smells Good
Every lady has their own favourite scent or even have a small collection of perfumes for all occasions. Why not add to her collection or pick up a bottle of her favourite scent.
Something to Look Forward to
A trip away is about as romantic as it gets. Whether its for one night or a weekend away. Get booking a nice romantic break for you both to enjoy.
Everyone loves fresh flowers and a pretty and romantic bouquet will instantly liven up her living room and brighten her day.
Something to Hold Those Flowers
Those gorgeous flowers will eventually die, but a pretty vase will stick around long after the last petal drops. And its something she will treasure forever.
You can't go wrong with a bottle of champagne and some goodies, create a gift basket – to be sure to romance her off her feet.
If she's into it, why not get a sexy little box set with massage oil, balms and see where the night take you both.
With all these suggestions, we're sure to have you covered for present buying. And fear not, in next weeks blog we'll cover some of our suggestions for buying for the man in your life on Valentine's Day. If you have any ideas or suggestions to add to our list, please comment below or get in touch – www.twoscompany.ie